I am posting this in the area where guests can view this and not be signed up.
Logging in:
OK, this needs to be addressed immediately, if you have issues logging in to the forums you need to figure a way to contact me via phone call, email or facebook (if you have me blocked on FB as some do, then you will not be able to contact me that way). Phone number is 504-495-4585
Being contacted by a third party can be confusing because the information might not be conveyed properly as well so I need for whomever is having issues to figure a way to contact me
directly
with whatever their issue is. Also I need
user names
, not real names when trying to research problems with users.
THIS IS IMPORTANT,

Since the crash some members have not re registered and are trying to log in using their old information,

THIS WILL NOT WORK

. This is why re registering emails are not being sent because the users are not even registered here. So make sure that you are registered to these forums, not the old ones. Easy way to check is look at the memberlist which is a word link at the top titled "members" (you can see it on the picture below as well). When you click "members" If you do not see your username on that list then you are not registered here and in order to post, you need to register ASAP.

The calendar:
, when an event is posted you have to MANUALLY post that info on the calendar yourself, it is not automatic and from what I hear on the PHPBB boards is there are serious bugs with the new PHPBB that messes up the calendar. This will need some more looking in to though.
Getting email replies:
this is
NOT
an automatic feature, each user needs to set this up in their own control panel.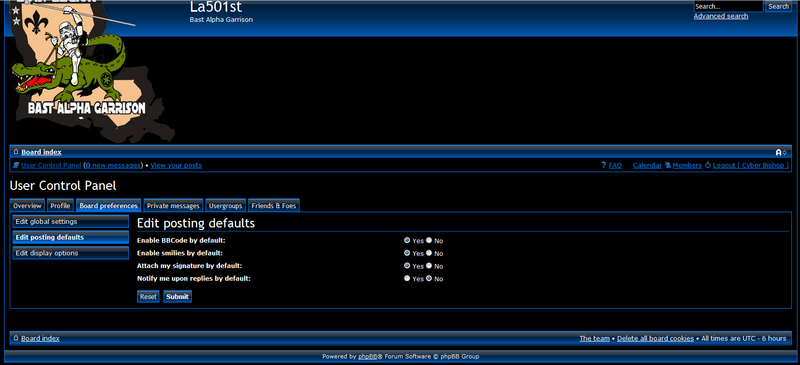 You need to activate this feature by clicking YES on the line "Notify me upon replies by default:" (see above image).
If there are any more questions please feel free to ask them.